Douglas Cuomo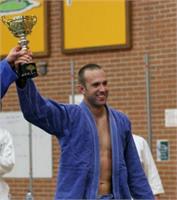 I randomly started my Brazilian Jiu Jitsu journey on a whim in September 2008 and it turned out to be the greatest thing I have every done with my life. Having graduated from fire school, worked as a POC firefighter for a couple years, and looking to improve my resume I moved to Fargo, ND to go to paramedic school. I drove by FargoBJJ every day on the way to study at a local coffee shop. I was bored with working out at the fitness center and was looking for something different and intriguing. I knew that BJJ was similar to wrestling and my thought process literally was, "wrestlers are always in good shape, I'll try that." I had no idea Brazilian Jiu Jitsu's depth and was soon on a fascinating journey. I met the greatest friends I could ever imagine, and have had experiences I would have never dreamed possible. From the beginning until the fall of 2015 I trained under George and Sarah Andersch (Black Belts under Amal Easton) and now co-own Summit County Jiu Jitsu with my friend and teammate Jason Baker. It is our desire to create an academy that lets us pursue our passion full time while sharing it with others. I was promoted to purple belt in December of 2012 by George Andersch. I am currently a member of Easton Training Center in Boulder training under Amal Easton et al. so that I can continue my personal growth in this incredible sport.
Douglas Cuomo instructs the following:






Learn how to wrestle with Zac Haynes, All-American and runner up for national champion from Deval University.




Sparring for intermediate and advanced Muay Thai students.